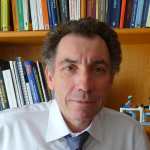 Dr VALENTI Philippe
Chirurgien orthopédiste - Spécialiste de l'Epaule
---
Parcours
---
Paris shoulder unit in « Institut de la Main » Clinique Bizet Paris France
www.parisshouderunit.com   www.shoulder3t.com
Born in Paris, doctor Philippe Valenti did a fellowship in Paris university and was interested to the surgery of the upper limb under the influence of the professors Alain Gilbert and AC Masquelet.  As microsurgeon, he developed his experience on hand reconstruction, nerve surgery, brachial plexus surgery and free flap transfer. He worked between 1987 -1989 with Dr Didier Patte before to travel to United states to visit Dr Rick Matsen and Dr Charles Rockwood.
In 1995, Dr Valenti was admitted in the "Institut de la Main"  where he focused is activity on shoulder reconstruction( arthroplasty, arthroscopy, nerves reconstruction and tendon transfer).  In 2003, Doctor Valenti is one of the designers of the first complete convertible shoulder prosthesis (Arrow shoulder arthroplasty). In 2004, Doctor Valenti was president of the French microsurgery society(GAM) and since 2008 he is the general secretary of this    French microsurgery society. In 2012, He organized in Paris the congress of the European Federation Microsurgery Society (EFMS).
Doctor Philippe Valenti is a member of the French Orthopaedic Society (SOFCOT), French Society of Arthroscopy (SFA), European Shoulder and Elbow Society (SECEC), American Association of Orthopedic Surgeons (AAOS) and American Society of Elbow and Shoulder (ASES). He is also a correspondent International Member of many Orthopaedic Societies (Chili, Columbia, Argentina, Brazil). In 2013, Dr Valenti organized with Ph Hardy the first Paris international shoulder course (PISC). We done the fourth edition in 2019 with more than 700 attendees and specialists of shoulder surgery. Between the PISC we organized at the same date in February the Paris shoulder symposium (PSS). These two events are brought together under the entity Paris Shoulder Events.
We did in 2018 a web platform on shoulder education for young and specialist of shoulder surgery. All the professional in this area can register free to follow live surgery with experts of the world or in replay: www.shoulder3t.com
In 2019 Dr Valenti was the president of the French Academy of orthopaedic and traumatology (AOT) and past president of the French 0rthopaedic Society of the Shoulder and Elbow (SOFEC).
He has over 120 publications on PubMed and has written 6 books including « Tendon transfer for irreparable cuff tear » (Springer).
He is also a founder and member of the French Humanitarian Association « Chaine de l'espoir » and Vice president of Chaine de l'Espoir.
Publications
---
Proximal humeral bone defect in reverse shoulder arthroplasty combined with latissimus-dorsi transfer is not related with a poor outcome.
Valenti P, Zampeli F, Caruso G, Nidtahar I, Martinez-Catalan N, Kazum E.
Orthop Traumatol Surg Res. 2022 May;108(3):103263. doi: 10.1016/j.otsr.2022.103263. Epub 2022 Mar 4.PMID: 35248792
Full Arthroscopic Eden-Hybinette Procedure Using 2 Cortical Suture Buttons for the Reconstruction of Anteroinferior Glenoid Defects
Philippe Valenti, Natalia Martinez-Catalan; Jean-David Werthel;  Efi Kazum
Techniques in Hand & Upper Extremity Surgery. 26(1):26-31, March 2022.
Surgical Technique: Lower Trapezius Transfer in Paediatric Paralytic Shoulder
Valenti, Philippe; Puig Dubois, Julieta; Werthel, Jean-David; More
Techniques in Hand & Upper Extremity Surgery. 26(1):18-22, March 2022.
Mid- to long-term outcomes after reverse shoulder arthroplasty with latissimus dorsi and teres major transfer for irreparable posterosuperior rotator cuff tears
Philippe Valenti 1, Leila Oryadi Zanjani 1 2, Bradley S Schoch 3, Efi Kazum 4 5, Jean David Werthel 1 6  Int Orthop 2021 May;45(5):1263-1271.
 doi: 10.1007/s00264-021-04948-z. Epub 2021 Jan 30.